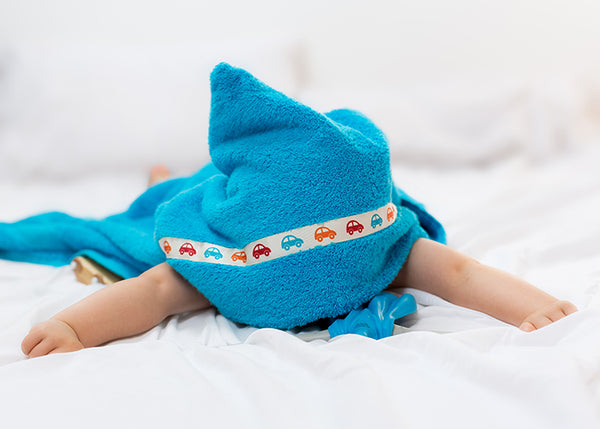 What makes our hooded towels (so) special?
We 'get' you - we're mums ourselves, this business was born when our own children grew out of their baby towels. We understand your needs, and as a small business customer satisfaction is at the heart of what we do.
Not just a hooded towel

Double Thickness Hood
A double thickness hood for absorbing water from even the thickest of hair (meaning faster hair drying for impatient children!)

Pop Fastener
A pop fastener keeps the towel closed like a poncho for warmth and privacy, but can be un-popped when you want the full towel for a good rub dry.

Unique Trims
A choice of unique trims (designed in-house by us) which can be personalised with a child's name for a lovely gift idea.
Sizes for babies, toddlers and tweens

Babies
For babies and pre-walkers, our towels are extra cushioned around the head with plenty of cloth for laying baby on and wrapping them up.)

Toddlers
Toddlers can run freely, playing superheroes whilst staying warm and dry (and without soaking every room in the house).

Tweens and Teens 
Older, more self-conscious children can have some 'hands-free' privacy when changing without the fear of dropping their towel, especially useful after swimming or when changing amongst peers.
Super fluffy

550g Egyptian Cotton
Premium quality - we go above and beyond to make sure our towelling is never less than 550g Egyptian cotton, thick, super soft and absorbent.

Easy care
Thanks to the fantastic quality of towelling we use, our towels wash and tumble dry perfectly, wear after wear, wash after wash and will last for many years. 

Award winning
Award winning - our towels have been recognised by some of the leading names in parenting (Mother & Baby, Junior Design Awards, Bizzie Baby, shortlisted for Smallish)
Email Signup
Add a short description to attract people to join your newsletter.