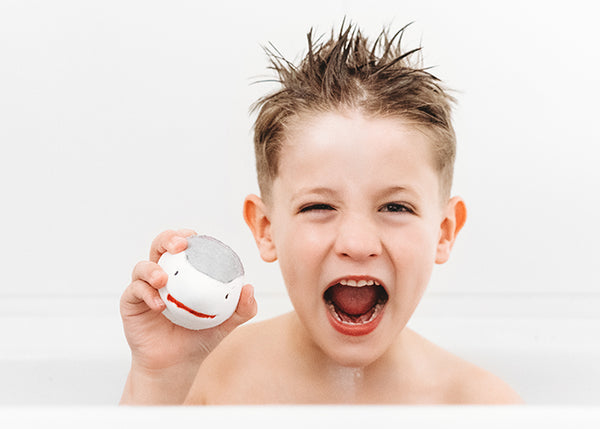 What makes our bath treats (so) special?
As parents ourselves we understand the importance of using only the best ingredients for your child's skin. Our bath products are perfect for mums who want to give their children a gentle and safe bath time experience.
All the WOW, without the worry!
Handmade by us
We make each and every product by hand with love and care, in small batches in our production studio in Bedfordshire.
So you know you'll be getting something extra special and a little bit different!

Quality Ingredients
We only use high quality ingredients and food safe colours so that our bath treats are kinder on children's' delicate skin whilst still giving a big WOW effect in the water.

Safe for little ones
All of our products have been tested and approved by a certified chemist for use by children aged 3 years and over.

Sensitive skin
Whilst they haven't been specifically tested for sensitive skin, all of our products contain high quality ingredients, so they are less likely to irritate young children's skin.
If you would like to test them out, we suggest starting with one of our Fizzing Bath Dusts so you can control how much product goes in the water.
Free from harsh chemicals
For peace of mind, none of our products include SLS or SLES.
Instead we use Sodium Lauryl Sulfoacetate (SLSa), which sounds similar but is a completely different product derived from coconut oil. It is safe, mild, skin-friendly cleanser that creates a rich lather without the irritants contained in some other foaming agents.

No staining
We use food-safe colours in all our products, and include a special oil to ensure they won't stain your bath.
We recommend not handling bath bombs and rocks while they are fizzing as they can cause temporary skin-staining if touched whilst the reaction is taking place.

Vegan-friendly
Non of our products have been tested on animals and the majority of our ingredients are sourced from nature and plants, although we cannot guarantee they are certified as being vegan.

Keep for a year
Our products mostly have a shelf life of 12 months from the date of production.
Details are included on all our labels to help you work out how long they will last.

How to store bath bombs
If you're not planning on using bath bombs or rocks straight away, keep them in a dark, dry place away from light and moisture warmer, more humid summer months.
Email Signup
Add a short description to attract people to join your newsletter.